Brisket is one of the best barbecue meats. The flavourful cut, packed with fat and connective tissue, is perfect for the low, consistent smoke provided by a Traeger. If you're thinking about trying to make your first brisket, this basic info will help you get started. Let's answer some of the common questions about this king cut of the barbecue world.


WHAT KIND OF MEAT IS BRISKET?
When people say brisket, they are almost always referring to "beef brisket."
Beef brisket is a large cut of meat from the lower chest. It is a relatively tough piece of meat, because the animal works it while moving.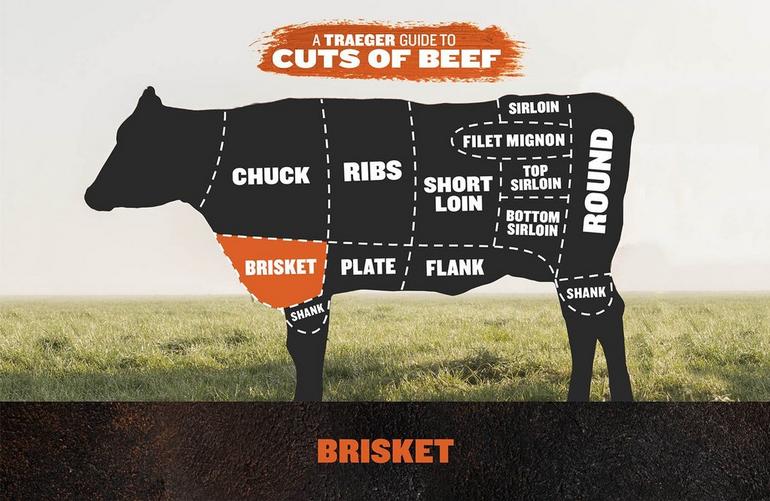 Brisket is full of connective tissue that binds the meat together. So brisket must be cooked over low heat for a long period of time to break down the connective tissue without overcooking the meat.
Historically, the word "brisket" is a synonym for "breast" or "breast meat." You could refer to "chicken breast" as "chicken brisket" -- but we don't know anyone who says that.


IS BRISKET A GOOD CUT OF MEAT?
Brisket is one of the best slow-cooking barbecue meats. It has an unbeatable combination of flavour and tenderness when cooked properly.
WHAT ARE THE DIFFERENT TYPES OF BRISKET?
There aren't different types of brisket, but there are two components: point (or deckle) and flat.
The point is attached directly to the rib cage and is a thicker cut with dense meat and large hunks of fat.
The flat has some fat but is mostly meat and connective tissue. You'll sometimes see brisket sold with only the flat.
IS CORNED BEEF THE SAME THING AS BRISKET?
Corned beef is traditionally made from the point. Barbecued brisket is usually made from both the point and the flat.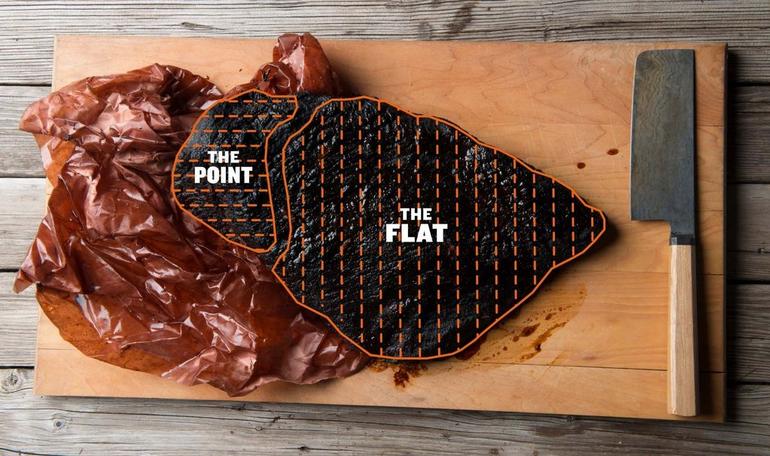 WHERE TO BUY BEEF BRISKET
A dedicated meat butcher is the ideal place to buy brisket. They can help you find the right piece of meat for how you plan to cook it, and can trim the cut based on your specifications. You will of course, pay slightly more for the individualised service of a butcher.



A large supermarket or warehouse store may carry brisket. Look for (or request) a "full packer" brisket which includes both the point and the flap.
Smaller supermarkets do not typically offer brisket but may be able to special order it.
You can also buy brisket online. In some cases, directly from the rancher.

WHAT IS BRISKET CALLED AT THE GROCERY STORE?
A brisket labeled as a "full-packer" is a whole brisket that contains both the point and the flat.
A brisket labeled as a "flat" or "half" may just include the flat.
Sometimes you'll see packages of meat simply labeled "brisket" with no further description. More than likely, this is a flat or a portion of the flat. Ask at the meat counter if you want to be sure what you're getting.
WHAT TO LOOK FOR WHEN BUYING BRISKET
Look for meat that feels relatively firm to the touch -- not spongy. Avoid meat that has excessive liquid within the packaging.
HOW MUCH BRISKET TO BUY PER PERSON
A good general guideline for all main meat dishes is three-quarters of a pound per person. A brisket is all meat (no bone), will weigh between 10 and 15 pounds, and should provide enough meat for 15 people or more.
HOW MUCH DOES A BRISKET COST?
Brisket prices vary widely depending on the quality of the brisket. A prime brisket from a warehouse store can be as low as $60. But specialty briskets, like those made from Wagyu beef, can be as much as $300.

WHAT DOES BRISKET TASTE LIKE?
Brisket has a dense, savoury, beefy flavour like lean steak. When cooked properly, it is very tender with natural juices in every bite -- similar to a fattier steak like a ribeye. Smoked brisket also has the flavours of the natural wood used in the cooking process.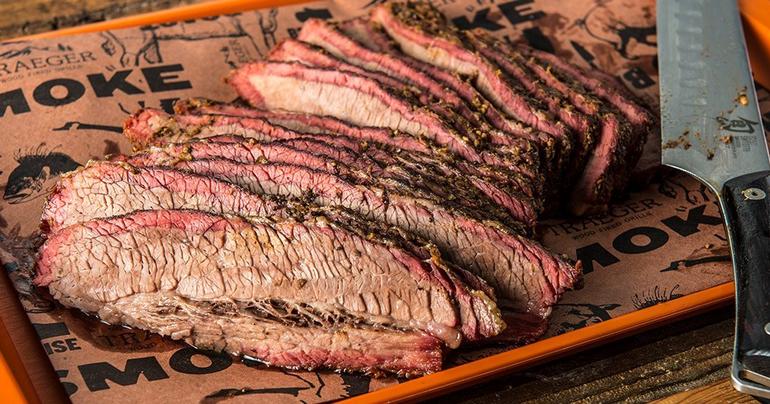 HOW TO SEASON A BRISKET
Many pitmasters season brisket very simply with salt and pepper. This choice lets the natural flavour of the meat and the flavour of the natural wood smoke, be the stars of the show.
But if you want to introduce other flavours into your brisket-eating experience, go for it! You can season brisket with any rub that's good for beef. Beef rubs typically have bold flavours like paprika, garlic, and peppers -- which hold their own against the hearty flavours of beef. Our Traeger Beef Rub is a good choice.
If you do use a flavoured rub, apply it 12 to 24 hours in advance to allow the rub to set.

HOW TO TRIM A BRISKET
Briskets have a layer of fat (called a fat cap) over a portion of the meat. The fat is usually trimmed before cooking.
If you're buying from a butcher shop, you can ask them to trim the brisket. If you tell them how you plan to cook it, they should have a good idea of the best way to trim.
If you're trimming on your own, the key is to cut away some of the fat but not too much. A narrow layer of fat on the outside of your brisket will help protect the meat from drying out as it cooks. But if you have too much fat, it won't render down, and you won't get that appetising bark on the outside of the meat.
A 1/4-inch layer of fat is a good amount, though some cooks prefer more and others less.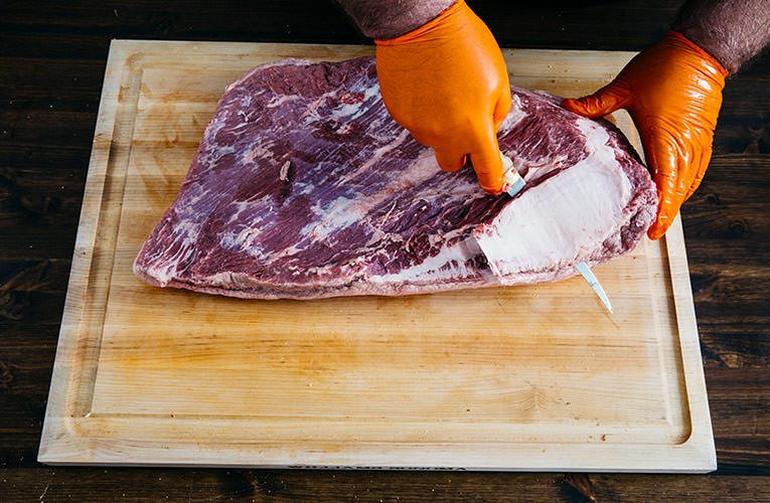 HOW TO COOK BRISKET
Low and slow -- with plenty of smoke -- is the ideal cooking method for this delicious cut of beef.


HOW TO SMOKE BRISKET
To smoke brisket, set the grill temperature to 250 degrees Fahrenheit. Place the brisket on the grill, and smoke it.
6-9 hours (10-pound brisket)
10-12 hours (15-pound brisket)
12-16 hours (20-pound brisket)

CAN YOU COOK BRISKET IN THE OVEN?
You can cook brisket in the oven, but you won't get the smoke flavour that truly brings out the best in this cut of meat. Some cooks will finish their smoked brisket in the oven to help it cook faster. But if you're cooking on a Traeger, you can simply turn up the temperature to achieve that effect.

WHEN TO WRAP BRISKET
We recommend wrapping brisket in aluminium foil or butcher paper when the internal temperature of the meat reaches 165- to 170-degrees Fahrenheit.



You don't have to wrap brisket, but doing so may drastically reduce the cooking time. When the internal temperature of the meat reaches 165 to 170 degrees, an unfortunate event called "the stall" can occur.
The stall happens when moisture evaporating off the surface of the meat causes the meat to cool because the low temperature of your smoker isn't enough to keep it cooking. You could turn up the temperature, but it might dry the meat out. The worst part about the stall is that you don't really know how long it will last.
By wrapping the brisket, you create a surface barrier that prevents the cooling. You can keep the grill temperature low and keep the brisket's temperature rising.
HOW TO TELL WHEN A SMOKED BRISKET IS DONE
Most pitmasters aim for a target internal temperature of 195- to 200-degrees Fahrenheit for brisket.
A thermometer probe -- like the one provided with a Traeger grill -- is the best way to check for doneness. If you have to cut into the meat to test it, you'll ruin the presentation and lose tasty juices that keep the meat tender.
HOW LONG TO LET BRISKET REST
Rest brisket for one hour after achieving the desired internal temperature of 195- to 200-degrees Fahrenheit.
During the cooking process, the meat and connective tissues release natural juices. When you rest the brisket, you're allowing that liquid to absorb back into the meat so it will be released in your mouth with every tasty bite.
HOW TO CUT BRISKET
Always cut brisket after cooking, never before cooking. To slice cooked brisket, use a long, serrated knife. Cut against the grain of the meat to help tenderise every piece. If you can't see where the grain is, cut a corner off the flat part of the brisket to get a better idea.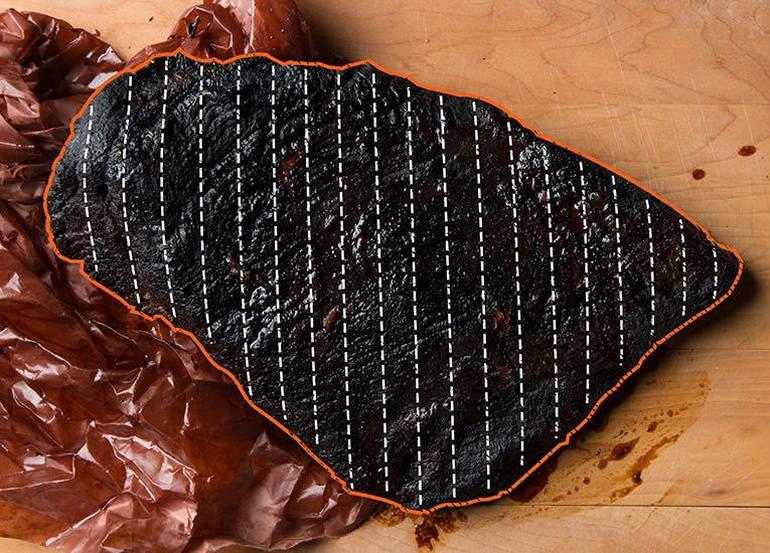 WHAT TO SERVE WITH BRISKET
Brisket is the star of every barbecue feast, especially Texas barbecue. Here are some classic sides to serve with brisket.
Coleslaw: The tanginess of coleslaw's vinegar-based dressing is a good contrast to the fattiness of the brisket.
Pinto Beans: A Texas side that matches the heartiness of brisket.
Potato Salad: A hearty salad with a hint of creaminess that complements the tender, juicy beef.
← Older Post Newer Post →